LGC Quality - ISO Guide 34 • GMP/GLP • ISO 9001 • ISO/IEC 17025 • ISO/IEC 17043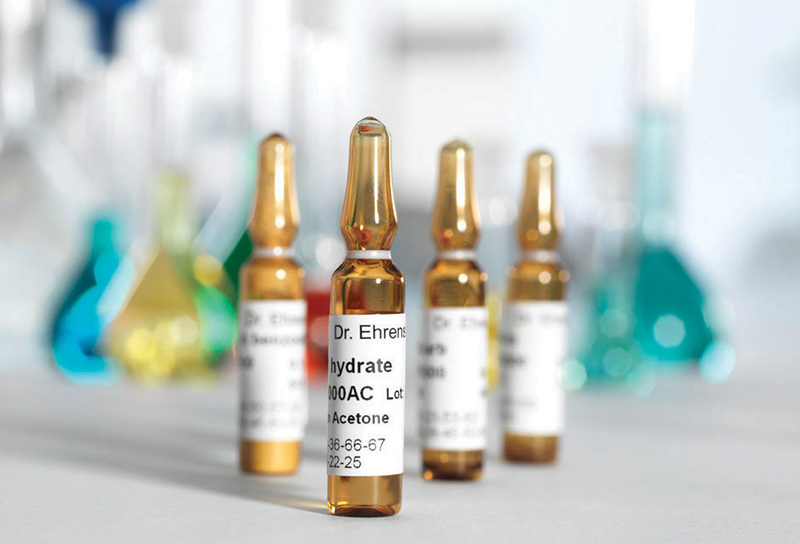 Dr. Ehrenstorfer
Reference materials for residue analysis
Welcome to the Dr. Ehrenstorfer catalogue, where you will find our latest products including:
Leading range of neat materials manufactured under ISO Guide 34 that you'll find labelled in this catalogue with the symbol ‡
New pesticide and pesticide metabolite standards
Stable isotope labelled standards for mass spectrometry analysis
A wider range of veterinary and pharmaceutical residue standards including marker metabolites
Popular mixtures for EPA, ASTM and other regulatory methods
Dr. Ehrenstorfer pioneered the production of pesticide reference substances in the 1960s.
Today, the portfolio has expanded and adapted to meet changing regulations and technology.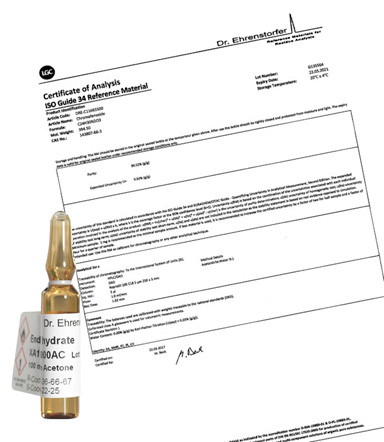 Dyes and metabolites
Food related compounds
Hydrocarbons and petrochemicals
Pesticide and metabolites: Fungicides
Pesticide and metabolites: Herbicides
Pesticide and metabolites: Insecticides
Other pesticides and metabolites
Pesticide mixtures
Pharmaceutical and veterinary compounds
Phenol and aromatic compounds
Plasticizers
Polycyclic aromatic hydrocarbons
Polybrominated biphenyls
Polychlorinated biphenyls
Polyhalogenated phenyls
Regulatory products
Volatile organic compounds
Other compounds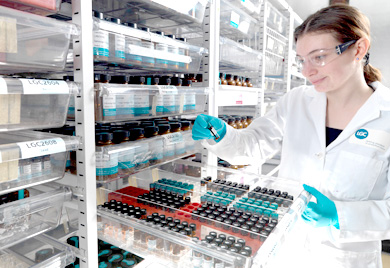 ATCC and Life Sciences
Elemental analysis
Food and beverages
Environmental
Clinical diagnostics and forensics
Petroleum Standards & CRMs
Pharmaceutical
LGC Standards is a division of the LGC Group, the UK's designated National Measurement Institute for chemical and bioanalytical measurements and an international leader in the laboratory services, measurement standards, reference materials, genomics and proficiency testing marketplaces.
We are a leading global producer and distributor of reference materials and proficiency testing schemes. Headquartered in Teddington, Middlesex, UK, LGC Standards has a network of dedicated sales offices extending across 20 countries in 5 continents and more than 30 years experience in the distribution of reference materials. These high quality products and services are essential for accurate analytical measurement and quality control, ensuring sound decisions are made based on reliable data. We have an unparalleled breadth of ISO Guide 34 accredited reference material production in facilities at 4 sites across the UK, the US and Germany.
Our portfolio of over 100,000 products and over 40 proficiency testing schemes supports a wide range of sectors including:
| | |
| --- | --- |
| • Environmental and contaminants | • Pharmaceutical |
| • Elemental analysis | • Physical standards |
| • Food and beverage  | • Proficiency testing |
| • Forensic and clinical | • Solvents |
| • Petroleum CRM's & reference materials |   |