Bransonic® Ultrasonic Baths
Branson's innovations include our signature elevated control panel, positioned above and behind the bath to avoid damage and increase operator safety. With our unique sweep frequency technology to eliminate standing waves, and our pioneering 40 kHz industrial transducers, Bransonic ultrasonic baths have been the industry standard for quality, reliability, and precision cleaning.
The CPX Series
Advanced technology and digital performance in our most robust, versatile, ultrasonics baths 
More control. More precision.
More innovation than ever.
The CPX Series extended degassing capabilities (up to 99 minutes) allow for "beyond cleaning" applications for sample preparation such as mixing and homogenization, dissolving solids, cell lysing, and particle dispersion.

The M Series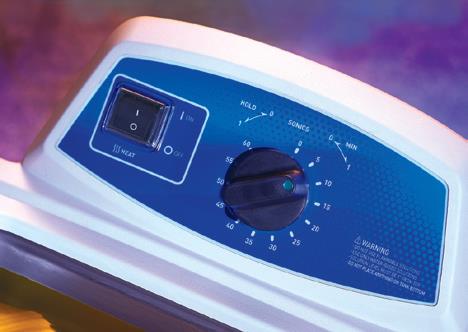 The value leader for quality and reliability.
The Bransonic M Series includes two simple-to-use
models: the M and MH Series. Both series are designed for basic yet
effective cleaning, with set-it-and-forget-it mechanical timers,
which can be set up to 60 minutes or run continuously.
MH Series units also offer a heating option. And both series are excellent
for use in a variety of applications.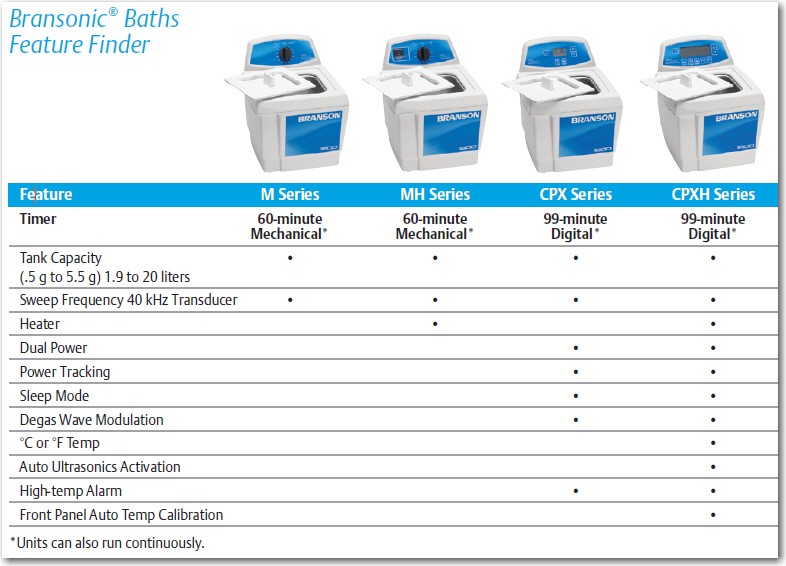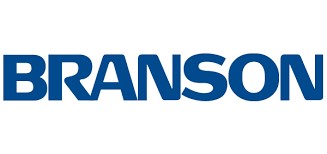 Accessories
Bransonic® ultrasonic baths also can be accessorized to best suit your specific cleaning or laboratory needs. Choose the appropriate suspension method for your applications, solid or perforated tray, basket, support rack, and beaker holder to customize each unit as needed.
The Right Cleaning Solution
It's the most important decision you can make. A large variety of excellent formulations are available, designed for specific applications. Proper selection is crucial for acceptable cleaning activity and to preclude undesirable reactivity with the items being cleaned.
Sonifier® The New Digital SFX Series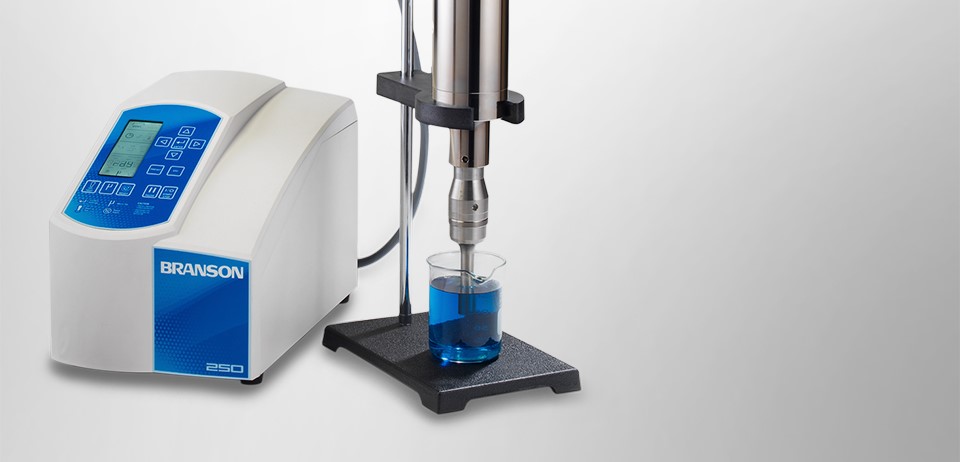 Power. Visibility. Control.
Our new digital models deliver more.
Sonifier® ultrasonic cell disruptors and homogenizers have set the industry standard since 1960. Now, our new SFX digital Sonifiers bring the industry's most advanced capabilities to your laboratory. Higher power levels. Precise energy and temperature control. Simple operation. There's even a handheld converter for low-volume applications. Power, visibility and control: That's the Branson advantage.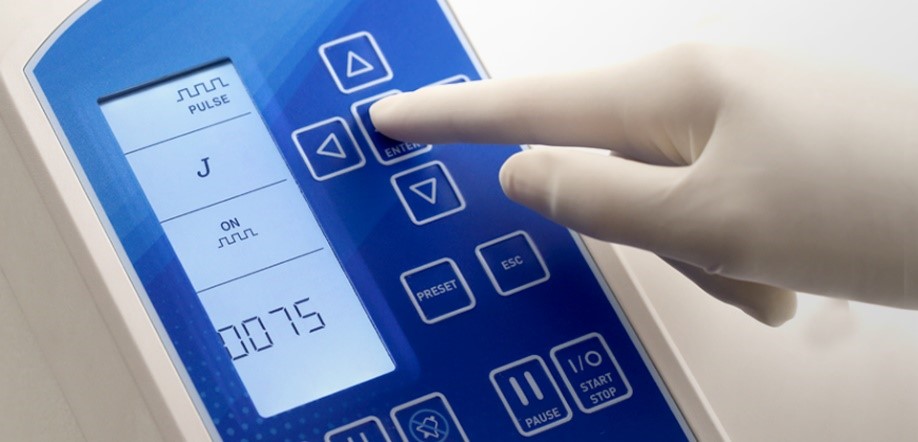 Branson SFX150 Sonifier®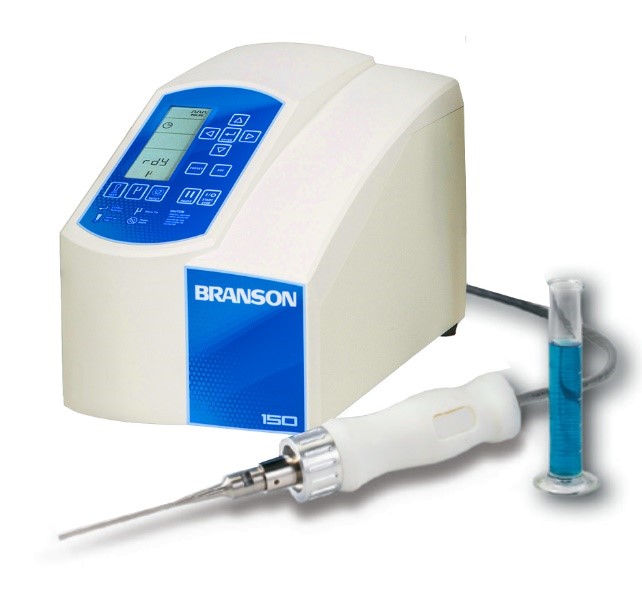 Designed for low-volume applications, the SFX150 Sonifier® delivers up to 150 watts
of power at 40 kHz for quiet operation. It's the only cell disruptor and homogenizer
of its type that includes a handheld converter designed for ergonomic comfort and
easy control to simplify and speed your experiment. The recessed pushbutton helps
prevent unintended activation, while the LED indicator light lets you know when
it's energized. A conventional converter and stand can also be used, and
the SFX150 includes all the same control and monitoring functions as the SFX250 and SFX550.
Branson SFX250 Sonifier ®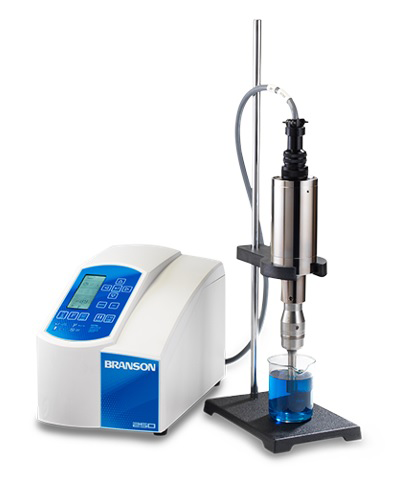 This versatile Sonifier ® is perfect for all but the highest-volume applications,
providing  up to 250 watts of output power at 20 kHz. Like all Sonifiers in the SFX Series,
the SFX250 offers the industry's simplest user interface and the most precise control over all
the critical parameters of your experiment.
Branson SFX550 Sonifier ®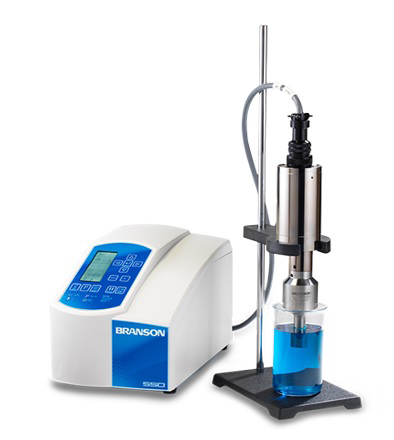 Our most powerful Sonifier ® , the SFX550 easily handles high-volume applications
with up to 550 watts of output power at 20 kHz. The SFX550 can process larger,
viscous samples, but also provides precise control over energy output and other
parameters to accommodate experiments of all sizes.
All SFX Series Sonifiers provide exclusive Branson features including
advanced energy mode and true temperature control.
Sonifier® Applications

  Cell Disruption & Lysis
  Efficiently break down cell membranes with the precise energy levels
  required for your sample, without overheating.

  Dispersal of Nanoparticles
  Deliver the energy needed to overcome strong adhesive forces and evenly
  disperse nanoparticles into liquid carriers for a variety of applications.

  ChIP Assay & Processing of DNA/Proteins
  Release DNA and proteins from cells and apply the energy needed to
  shear them into fragments for purification and analysis.

  Emulsification & Homogenization
  Use the most efficient method to quickly and reliably create perfectly
  uniform preparations without risk of overheating.

  Acceleration of Reactions
  Use ultrasonics to accelerate chemical reactions through a variety of processes, including
  microcleaning of catalyst surfaces and acoustic cavitation that adds energy to the reaction.

Leaching & Extraction
Use the shear and cavitation forces of ultrasonics to improve the speed
and efficiency of catalytic extraction while reducing solvent use.
Fine Mixing
Create homogenous mixes without the complexity and inconsistent
results of a mechanical system.
Degassing
Remove dissolved gases through acoustic cavitation that draws the gases
into vacuum bubbles, allowing them to float to the top of the liquid for
easy removal.