M O B I L E F I L T E R
We have a wide range of complete, fully assembled filter products for both industrial and laboratory environments.  
With filters optimised for stationary, portable or mobile applications, valuable customer benefits are attained,
such as low noise levels, low pressure drops and easy service.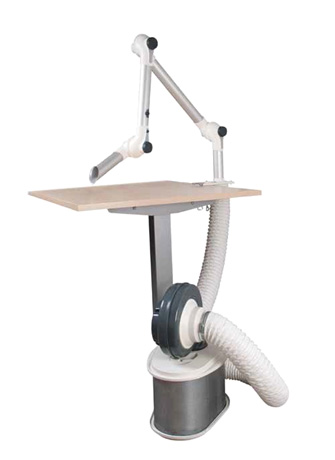 LF
Portable, flexible filter unit for temporary work solutions
Fumex LF is an effective and flexible solution including
a fan and filter in a single unit.
LF includes a FF 100 fan with a highly efficient
EC motor, equipped with speed control as well as a filter.
The filter comes in two designs and in two sizes –
combined particle/gas filter or gas filter.
LF is available as s complete kit solution, in six designs for simple selection and installation.
The FF 100 fan can be used separately e.g. in combination with Fumex series laboratory extractors.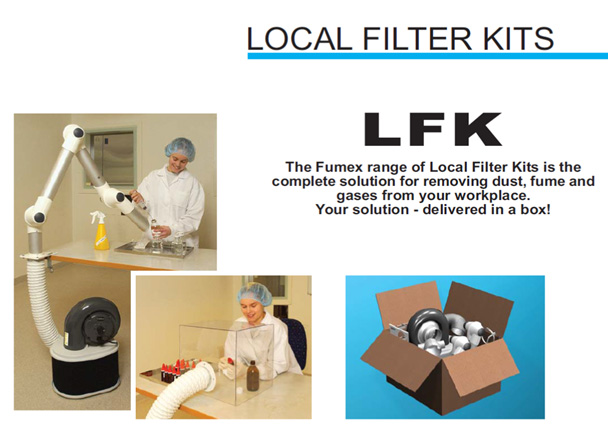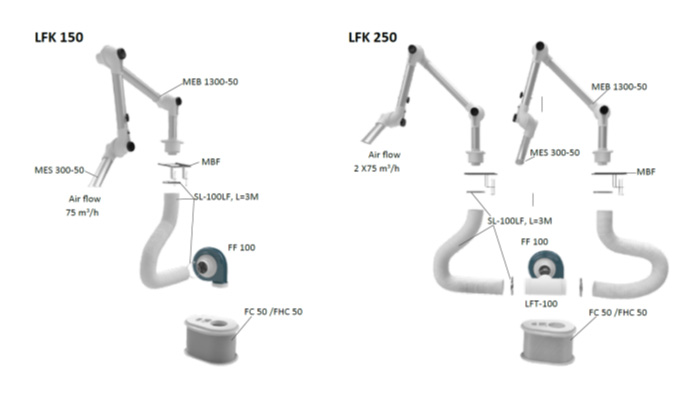 Application guide line
| | | | |
| --- | --- | --- | --- |
|   | Hazard substances | Rec. LFK | Rec. filter |
|   |   |   |   |
| Soldering (Electronic) | Resin, Lead, Terpene, Limonene, Borneol, Isosyanates | LFK 150/250/450 | Particle/Gas |
| Solder Pot | Resin, Lead, Terpene | LFK 175/275 | Particle/Gas |
| Gluing / Bonding | VOC1, Methylmetacrylate (MMA), Toluene, Ethyl-2-cyanoacrylate, Tetrahydrofuran,Cyklohexanone | LFK 150/175 | Gas |
| Screen printing | Methyl ethyl ketone (MEK), Toluene | LFK 150/250 | Gas |
| Cleaning / degreasing | Acetone, Toluene, MEK, VOCs1 | LFK 350 C | Gas |
| Dental Lab | Dust, MMA | LFK 175/275 | Particle/Gas |
| Nail salon | 2-Hydroxyethyl methacrylate (HEMA), MMA, Acetone, buffing dust | LFK 150 | Particle/Gas |
| Laser cutting | Dust, metal particulate, odour | LFK 150/450 | Particle/Gas |
| Moulding | Epoxi, Styrene | LFK 175/275 | Gas |
| Conservation | VOCs1 | LFK 175/275/LFK 350C | Gas |
| Precision TIG welding | Welding fume, Gases, Ozone | LFK 175/275 | Particle/Gas |
| Stained Glass working | Lead fume, VOCs1 | LFK 175/275 | Particle/Gas |
| Botany research | VOCs1 | LFK 175/275 | Gas |
| Sculpturing | VOCs1, silica dust, sealants | LFK 150/175/275 | Particle/Gas |
1 VOC (Volatile Organic compounds)