Since 1911 MACHEREY-NAGEL stands for high quality, innovation and reliability in chemical and biomolecular analysis. Friendly expert advice for our highly valued customers as well as outstanding product quality have been the cornerstones of our corporate success for more than 100 years. MACHEREY-NAGEL is a family-owned company run by the fourth generation. As one of today's leading manufacturers of products for analytical chemistry and life science we offer a broad range of products for Filtration, Rapid Tests, Water Analysis, Chromatography and Bioanalysis.

Headquarters and manufacturing site in Düren (Germany), further location in Oensingen (Switzerland)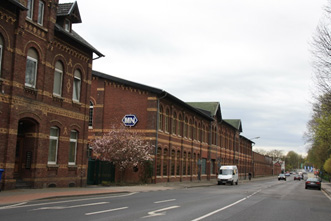 MACHEREY-NAGEL has grown from a pioneer in chromatography to a full-range supplier of laboratory consumables. We supply laboratories all over the world with HPLC, GC and SPE columns, TLC plates and sheets, syringe filters or suitable vials and closures. Our philosophy includes personal and competent support as well as outstanding product quality. We have the demand to fulfill the customer's individual needs and offer optimal and reliable solutions for your lab work in method development and routine analysis.
1. Solid phase extraction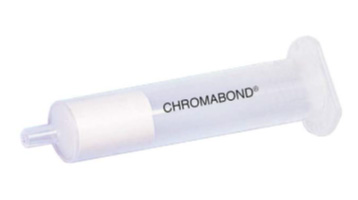 Our CHROMABOND® QC policy
Highest production standard – our facilities are EN ISO 9001:2008 certified
All products are individually tested to meet our strict quality specifications, ensuring our outstanding product reproducibility, reliability and performance
Perfect reproducibility from lot-to-lot and within every single batch:
> Careful attention to particle size distribution and pore diameters assures consistent column flow
> Chemical reproducibility is guaranteed by strict quality control throughout manufacturing
Each product is supplied with a certificate of analysis stating the results of internal examinations and quality control
Solid Phase Extraction Demonstration 
Design of columns, cartridges and 96-well plates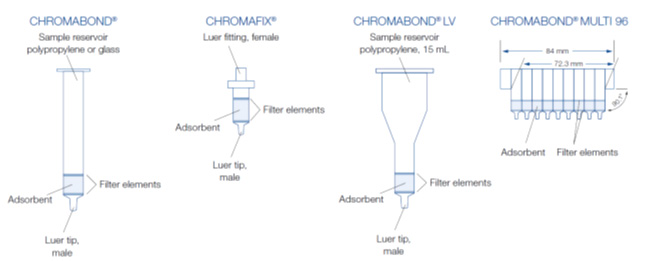 CHROMABOND® summary of MN phases
CHROMABOND®
Phase

Matrix

Modification / Application

Reversed phases

HR-X

PS/DVB

 

Easy

PS/DVB

polar, bifunctional

HR-P

PS/DVB

 

PS-RP

PS/DVB

removal of organic components

C18 ec

silica

octadecyl, endcapped

C18 ec f

silica

as above, fast flow

C18

silica

octadecyl, not endcapped

C18 f

silica

as above, fast flow

C18 Hydra

silica

octadecyl, not endcapped, for polar analytes

C8

silica

octyl

C4

silica

butyl

C2

silica

dimethyl

C6H11 ec

silica

cyclohexyl, endcapped

C6H5

silica

phenyl

Normal phases

SiOH

silica

unmodified

NH2

silica

aminopropyl

OH (Diol)

silica

diol

CN

silica

cyano

HILIC

silica

zwitterionic ammonium-sulfonic acid modification

Alox A

aluminum oxide

acidic

Alox N

aluminum oxide

neutral

Alox B

aluminum oxide

basic

Florisil®

magnesium silicate

 

PA

Polyamide 6

 

Ion exchangers

SA

silica

benzenesulfonic acid cation exchanger (SCX)

SB

silica

quaternary ammonium anion exchanger (SAX)

PCA

silica

propylcarboxylic acid cation exchanger (WCX)

PSA**

silica

propylsulfonic acid cation exchanger

HR-XC

PS/DVB

strong mixed mode cation exchanger for basic analytes (MCX)

HR-XA

PS/DVB

strong mixed mode anion exchanger for acidic analytes (MAX)

HR-XCW

PS/DVB

weak mixed mode cation exchanger for basic analytes (WCX)

HR-XAW

PS/DVB

weak mixed mode anion exchanger for acidic analytes (WAX)

PS-OH–

PS/DVB

strong anion exchanger in OH– form

PS-H+

PS/DVB

strong cation exchanger in H+ form

PS-Mix

PS/DVB

mixture of PS-OH– and PS-H+

PS-Ag+

PS/DVB

strong cation exchanger in Ag+ form

PS-Ba2+

PS/DVB

strong cation exchanger in Ba2+ form

Phases for special applications

Drug

silica

bifunctional C8/SA, for enrichment of drugs from urine

Drug II

silica

bifunctional C8/SB, for extraction of THC and derivatives and of acidic analytes from biological fluids

Tetracycline

silica

special octadecyl phase, for enrichment of tetracyclines

HR-P-AOX

PS/DVB

for extraction of AOX from water (DIN 38409 – H22)

C18 PAH

silica

special octadecyl phase, for enrichment of PAHs from water

NH2/C18

silica

combination phase for enrichment of PAHs from water

CN/SiOH

silica

combination phase for enrichment of PAHs from soil

Na2SO4/Florisil®

 

combination phase for extraction of hydrocar- bons from water (DIN H-53 / ISO DIS 9377-4)

NAN

silica / AgNO3 + Na2SO4

combination phase for enrichment of PCBs from sludge

SA/SiOH

silica

combination phase for enrichment of PCBs from waste oil

SiOH-H2SO4/SA

silica

combination phase, used together with SiOH for enrichment of PCB from oil

QuEChERS / Diamino

silica

primary and secondary amine functions (PSA), for determination of pesticides in food samples (QuEChERS method)

ABC18

silica

octadecyl, with ion exchange functions, for acrylamide analysis

Carbon A

activated carbon

determination of acrylamide from water according to DIN 38413-6

PL

 

specially developed SPE phase for the preparation of bioanalytical samples

Dry

Na2SO4

for drying organic samples

PTL/PTS

special membrane

phase separation

XTR

kieselguhr

liquid-liquid extraction

 
* Phases which provide a similar selectivity based on chemical or physical properties (list not complete)
** For primary and secondary amine functions see QuEChERS / Diamino
---
CHROMABOND® QuEChERS special silica phase for determination of pesticides in food samples