With over 100 years of experience serving the weighing industry,
no company has the knowledge to build quality products like OHAUS.
Take a look at our company history and see why we have the trust and respect of customers all around the world.
ANALYTICAL BALANCES
Explorer® Semi-Micro
Built for Sophisticated, Professional Weighing
Geared for high-performance with up to 0.01mg readability and capacities up to 220g. The AutoCal™ Internal Calibration system ensures accuracy of results in applications that require high precision.

Equipped with a color touchscreen display that enhances the user-experience. In addition, touchless sensors, automatic draft shield doors (on select models) and ionizer ensure the integrity of results.
Adventurer® Analytical
Ready For Your Lab, Wherever That May Be.
Fast stabilization and reliable operation are enhanced by the AutoCal™ option to ensure solid weighing performance and accurate, repeatable results for standard laboratory applications.

The wide viewing angle color touchscreen provides access to all of Adventurer's applications, while dual USB ports with GLP/GMP tracking capabilities assist in the monitoring and reporting of data.

The two-piece, top-mounted draftshield doors reduce the footprint of the doors in the rear of the balance when open, and open wide on both sides in order to provide ample room to place samples.
Pioneer® Plus Analytical
The Economical Choice of Balance for Routine Weighing Applications
The draftshield features removable glass panels and three sliding doors which help to avoid sample contamination. These can be easily removed for cleaning the balance.

The Pioneer is equipped with a bright backlit LCD which enables clear viewing of results regardless of the lighting conditions- making it ideal for use in any work setting.

Three filter modes and adjustable zero tracking help to adjust the balance's sensitivity to environmental disturbances, vibrations and slow filling applications, ensuring the accuracy of measurements.
PORTABLE BALANCES
SCOUT® STX
SETTING NEW STANDARDS IN LABORATORY & INDUSTRIAL WEIGHING - THE NEXT GENERATION OF SCOUT BALANCES
LARGE, RESILIENT COLOR TOUCHSCREEN ALLOWS FOR EFFORTLESS OPERATION OF THE SCOUT THROUGH ITS INFORMATIVE ICON DRIVEN MENU STRUCTURE, GUIDING THE USER THROUGH EVERY STEP OF THE WEIGHING APPLICATION.
STABILIZATION TIME AS FAST AS 1 SEC MEANS INCREASED PRODUCTIVITY IN YOUR FACILITY. EQUIPPED WITH ADVANCED WEIGHING TECHNOLOGY, THE SCOUT ALSO ENSURES REPEATABLE AND RELIABLE WEIGHING RESULTS.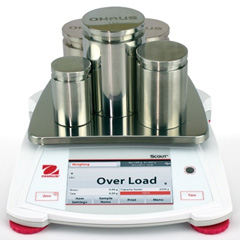 CENTRIFUGES
FRONTIER™ 5000 SERIES MULTI PRO
POWERFUL AND VERSATILE UNIVERSAL CENTRIFUGES FOR VIRTUALLY EVERY LAB APPLICATION
OUR MULTI-PURPOSE CENTRIFUGES OFFER A HIGH-SPEED CENTRIFUGATION PLATFORM WHICH CAN BE CUSTOMIZED TO FIT WORKFLOW NEEDS USING A WIDE VARIETY OF ROTORS AND ACCESSORIES.
THE INTUITIVE DESIGN OF THE CENTRIFUGES & ACCESSORIES ENABLE EASY ACCESS TO PARAMETER SETTINGS, AND QUICK ROTATION BETWEEN APPLICATIONS.
OPEN AIR SHAKERS
LIGHT DUTY ORBITAL SHAKERS
CHOOSE FROM FOUR MODELS FOR LIGHT DUTY SHAKING

THE VARIABLE SPEED, MICROPROCESSOR CONTROL PROVIDES CONSISTENT, UNIFORM SHAKING ACTION. THE MICROPROCESSOR DISPLAYS THE LAST SETPOINT AND WILL RESTART IF POWER IS INTERRUPTED (ON DIGITAL MODELS).
HEAVY DUTY ORBITAL SHAKERS
EIGHT MODEL OPTIONS TO SUIT THE RIGHT CAPACITY FOR YOUR APPLICATION
THE EXCLUSIVE ACCU-DRIVE SHAKING SYSTEM ON DIGITAL MODELS UTILIZES DUAL-SPEED SENSORS TO CONTINUOUSLY MONITOR AND MAINTAIN SHAKING SPEED - DELIVERING EXCEPTIONAL SPEED CONTROL, ACCURACY & DURABILITY.
SPEED RAMPING FEATURE SLOWLY INCREASES THE SPEED TO DESIRED SETPOINT TO AVOID SPLASHING. THE LOAD SENSOR DETECTS UNBALANCED CONDITIONS & AUTOMATICALLY REDUCES RPM TO A SAFE SPEED TO PROTECT SAMPLES.
VORTEX MIXERS
MINI VORTEX MIXERS
BUILT STURDY TO PROVIDE STABLE AND RELIABLE VORTEXING ACTION
AVAILABLE AS ANALOG AND DIGITAL MODELS WITH A ROCKER SWITCH TO SELECT FROM 2 MODES - TOUCH MODE WHICH ACTIVATES MIXING WHEN DEPRESSING THE CUP HEAD OR CONTINUOUS MODE WHEN USING ACCESSORY ATTACHMENTS.
ANALOG AND DIGITAL MODELS OFFER SPEED CONTROL FROM LOW RPM START UP FOR GENTLE SHAKING - TO HIGH-SPEED MIXING FOR VIGOROUS VORTEXING OF SAMPLES (ANALOG - 300 TO 3200 RPM & DIGITAL - 500 TO 3000 RPM).
MULTI-TUBE VORTEX MIXERS
IMPROVE EFFICIENCY BY PROCESSING UP TO 50 SAMPLES AT A TIME
DIGITAL MODELS FEATURE TOUCHPAD CONTROL FOR EASY INPUT OF SETTINGS, AND INDEPENDENT LED DISPLAYS FOR SPEED/TIME. TIMER DISPLAYS ELAPSED TIME AND WHEN PROGRAMMED, SHUTS OFF UNIT WHEN TIME REACHES ZERO.
DIGITAL MODELS FEATURE A PROGRAMMABLE PULSE MODE WHICH ALLOWS THE USER TO ADJUST THE PULSE-ON/PULSE-OFF TIMES BETWEEN 1- 59 SEC INTERVALS, ENHANCING THE VORTEX ACTION BY CREATING A MORE VIGOROUS MIX.