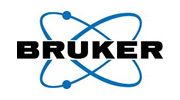 BRUKER Infrared, Near Infrared and Raman Spectroscopy
Bruker Optics offers a wide variety of laboratory
FTIR spectrometers for routine applications.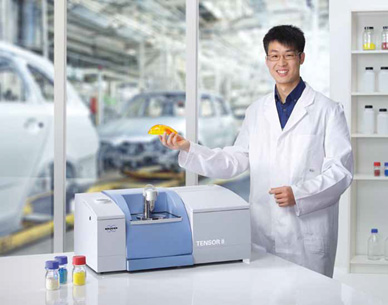 FTIR Routine Spectrometers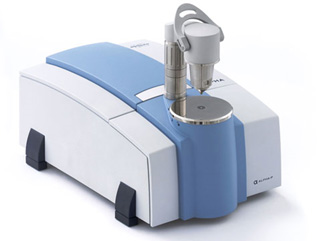 ALPHA II FTIR Spectrometer
The FTIR spectrometer ALPHA II combines outstanding quality with a small footprint and sets a benchmark in terms of user convenience. With the integrated panel PC and the touch-based operation, FTIR spectroscopy has never been easier.
Design Follows Application
The QuickSnap sampling modules for the ALPHA II offer full sampling flexibility. They allow the analysis of almost any kind of sample (e.g. solids, liquids or gases) each with perfectly matched instrument configuration.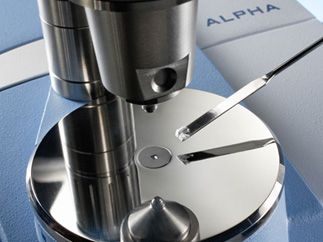 Multiple sampling accessories for transmission, attenuated total reflection (ATR), external and diffuse reflection are available to fulfill the requirements for many different analytical questions.
Efficiency in Routine Analysis
The ALPHA II offers all the capabilities needed for efficient routine analysis. It is ideally suited for quality control tasks like incoming goods inspection or the testing of intermediate and final products.
The identification of unknown samples as a common requirement in failure analysis, competition analysis, and forensics is extremely simple with the ALPHA II.
The ALPHA II is further very suitable for quantitative analysis providing optimal measurement conditions for all types of samples.
---
TENSOR II Highest Quality for Highest Performance
TENSOR II is a high performing FTIR spectrometer with a compact size. It combines the highest sensitivity and outstanding flexibility with an intuitive and easy to operate interface. These features make the TENSOR II the best choice for advanced applications in industrial R&D and academia.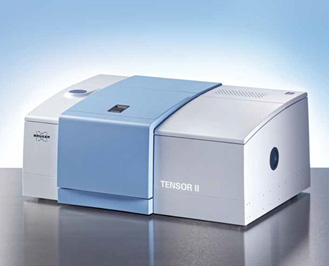 Well-Balanced Design
TENSOR II is designed to optimally combine high light-throughput and a large sample compartment with compactness. The optical bench is precisely arranged and safeguarded by the tightly sealed premium-class housing from high quality structural foam which provides excellent rigidness.
External Accessories and Sampling Options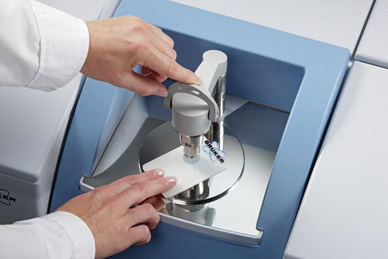 Sampling capabilities of the TENSOR II can be expanded by adding an optional external beam port. This allows the attachment of one or more external accessories.
HYPERION Series FT-IR microscope
HYPERION 3000 FT-IR imaging system
HTS-XT High Throughput Screening eXTension
IMAC Focal Plane Array Macro Imaging Accessory
TGA module
PMA 50 for VCD and PM-IRRAS
External sample compartment; evacuable or purgeable
External vacuum tight UHV-chamber adaptation
Integrating sphere
Liquid auto samplers
---
LUMOS Fully Automated Stand-Alone FTIR Microscope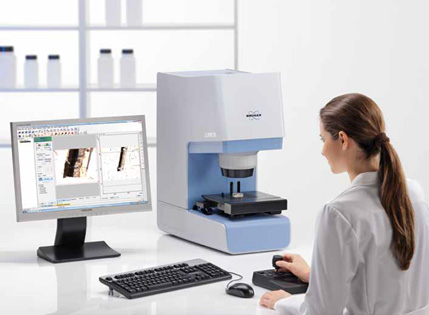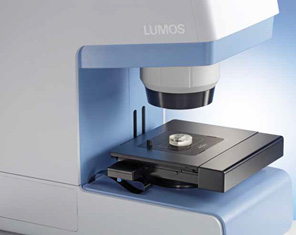 The LUMOS is a stand-alone FT-IR microscope with an integrated FT-IR spectrometer perfectly matched into its optical design. All components are motorized and electronically coded. The innovation of a motorized ATR-crystal allows the system to switch from transmission or reflection to ATR mode without interaction of the operator, and to measure fully automated sample and background spectra even in ATR mode.
Excellent optics
8x objective for automated measurements in transmission, reflection and ATR
Magnification can be increased to 32x by digital zooming
Large field of view at a high numerical aperture
Independent white light LED illumination in transmission and reflection
"Köhler apertures" for maximized visible contrast
Image capture by highly resolving digital CCD camera
FT-NIR spectroscopy is today well established for quality control applications in all industries, including the pharmaceutical, food, agricultural and chemical sector.
---
TANGO The next generation FT-NIR spectrometer.
Faster, simpler, more secure - with TANGO your NIR analysis speeds up. TANGO has exactly what users require of an FT-NIR spectrometer suitable for industrial use: robustness, high precision and straightforward operator guidance.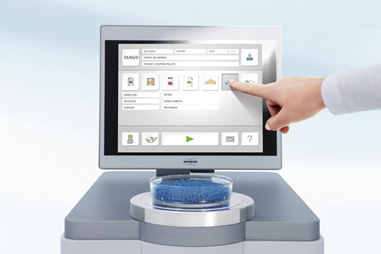 TANGO demonstrates how easy NIR analysis can be, not just during measurements. he housing and touch-screen monitor are rugged and easy to clean – ideal for lab and   at-line environments. The exchange of the light source, if required, can be done in a few seconds. Also the desiccant cartridge, which keeps the inside low on humidity can be changed easily.
Fast measurements for high sample throughput, simultaneous evaluation of different components and an intuitive handling, without need for expertise training: TANGO simplifies the NIR analysis and therefore offers maximum security of the results. Specifically targeted for the given application and the demands required of an efficient analyzer.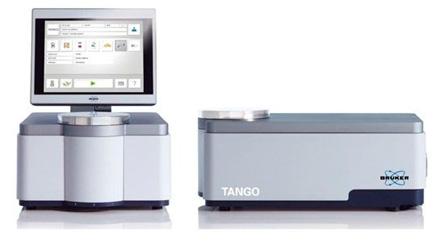 ---
The MPA offers unrivalled flexibility
The MPA incorporates state-of-the-art optics for outstanding performance and stability. The heart of the instrument is Bruker Optics' permanently aligned RockSolid interferometer, which is equipped with gold-coated cube-corner mirrors. The permanent alignment provides consistent high quality results, less downtime and highest stability, a precondition for successful calibration transfer and low detection limits.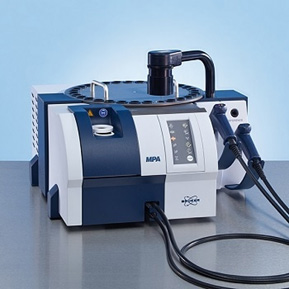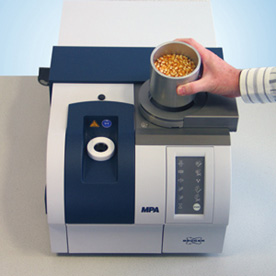 Easy Operation
Customizable workspaces, easy measurement modes and wizards to guide you through the setup of analytical methods are standard in the OPUS spectroscopy software.
The smart display informs the user about the instrument status and indicates whether the measurement passed or failed. These factors make the operation of the instrument and the software so easy that even untrained personnel can operate the MPA spectrometer from day one.